Bhubaneswar(OdishaLIVE Bureau): The Asian Athletics Championships (AAC) is Asia's flagship event organized by the Asian Athletics Association (AAA). Bhubaneswar the capital city of Odisha is hosting the 22nd edition of the sporting spectacle in the international standard Kalinga Stadium. The mascot of the highly anticipated event is chosen as 'Olly' after the endangered Olive Ridley turtles that come to Odisha for mass nesting.
India has hosted the event earlier on two occasions in New Delhi (1989) and Pune (2013). Nearly 1000 athletes from 45 countries will participate across track and field events the winners of which procure a direct berth in the IAAF World Championships London, 2017.
Odisha added yet another feat to its long list of staging high-quality sports events with a glittering opening ceremony held for the 22nd Asian Athletics Championships at the Kalinga Stadium. Contrary to the event being just about a dazzling array of lights and sounds the ceremony took a packed Kalinga Stadium on a journey of Odisha's glorious past and a promising future.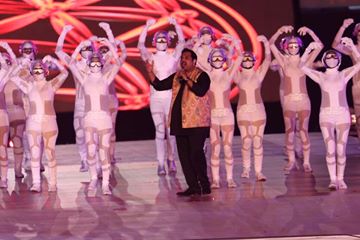 The event was flagged off by Honourable Chief Minister of Odisha Shri Naveen Patnaik where he stated, "It was on March 30, 2017 that Odisha was named as the host of the 22nd Asian Athletics Championships. We always had the resolve, and prepared a world-class event in just 90 days. With the Asian Championships, we showcase our readiness and welcome everyone to witness this spectacle. I am certain that this event marks the golden era of sports in Odisha. Odias are amongst the most hospitable people you will come across and I am certain that each one of you will get a taste of the Odia warmth."
Other dignitaries including Shri Chandra Sarthi Behera, Hon'ble Minister of Sports and Youth Services, Govt of Odisha, Lord Sebastian Coe, President, International Association of Athletics Federation, General Dahlan Al-Hamad, President, Asian Athletics Association, Mr. Adille Sumariwala, President, Athletics Federation of India, Shri Aditya Prasad Padhi, Chief Secretary, Shri Injeti Srinivas, Secretary, Sports, Ministry of Youth Affairs and Sports, Government of India and R. Balakrishnan, IAS, DC-CUM-ACS, Government of Odisha were also seen at the opening ceremony.